In this issue:
Faster Deliveries
Narrow Web Upgrades
BWC Blog: When Tension is Not Known
All Air Web Guides
---
Tension Control Components Delivered in 2 Weeks or Less
Get the process improvements you require through our industry leading tension control products faster than ever. We are proud to offer some of the shortest lead times in the industry on controllers, load cells, safety chucks, amplifiers and more.
Available products in 2 weeks or less include:
S4 Tension Controllers
U4 Open Loop Tension Controllers
M3200 Amplifiers
A4 Amplifiers
M4 Meters
ES Dead Shaft-Idler Load Cells
CD Tension Brakes
DPS 45 Dancer Position Sensors
US4 100mm to 1m Ultrasonic Sensors
MPC4 IP Converters and PDA Valves
Additional Montalvo products are still available within 3 or 4 weeks, including Z4 Controllers, V, HP and Standard Brakes, Guardian Safety Chucks (standard), U Series Load Cells and much more. Half the time of other manufacturers.
Quality, performance, and productivity delivered quickly to you!
---
Narrow Web Tension Control Upgrades for Increased Productivity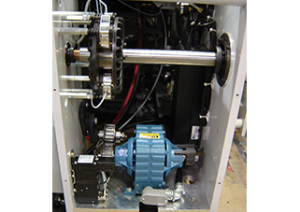 Narrow web, laminating, and label manufacturing is constantly evolving. Whether it is changes in material weight, colors, two sided processing, RFID chips and more, narrow web manufacturers are constantly challenged with having to meet these changing demands with their existing equipment.
High quality tension control plays a vital role in expanding the capabilities of narrow web and label machines while at the same time adding increased productivity, reduced waste, and increased end product quality.
We have worked on a wide variety of narrow web and label applications (Mark Andy, Comco, Nilpeter, Prophiteer, Webtron, Rotopress, and many more), easily integrating high performance and high quality tension control components into new and existing machines.
See an example of one of our Narrow Web Press Upgrades or Contact a Montalvo Applications Specialist to discuss your application.
---
Paper/Paperboard: What to do When a Tension Value is Not Known
Sometimes when first starting out with new paper or paperboard material you might not know what the best tension setpoint to run is. In this scenario we can utilize TAPPI guidelines as a quality starting point. TAPPI is a 100 year old organization that was formed to serve the pulp, paper, and packaging industries and has created reference numbers based on Basis Weight/Thickness to determine tension.
Based on our 70 year experience we have slightly adjusted their numbers to create a Common Unwind Tension Values for Converting Applications chart that will serve as a good starting point for your initial tension.
You can download our Tension Values Chart on the Tools page of our website.
If you are still unsure, contact a Montalvo Applications Specialists who can work you to find the precise tension level required to maximize the quality of your end product.
---
All Air Web Guides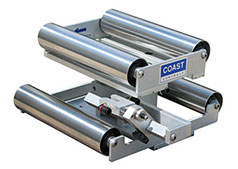 All-Air web guiding systems operating exclusively on low pressure air without the use of electricity, electronics, or hydraulics combined with an unparalleled 10-year warranty so you can achieve more with less!
Montalvo and Coast Controls have partnered to offer complete tension control and web guiding equipment packages. Coast Controls All Air Web Guiding Systems are simple to install, simple to operate, are highly cost effective and have a longer service life.
In select regions Coast Controls Web Guides are available for direct sales, service, and support through Montalvo and Montalvo Representatives.
---
Sign up here for the Better Web Control Newsletter to have monthly editions delivered right to your inbox.