December 13, 2017, Gorham, ME, USA – Montalvo, international specialists in web tension control, has promoted Bryon Williams to Director of Sales and Marketing. Mr. William's will oversee Montalvo's North America sales efforts, and global marketing strategy with an emphasis on building relationships within existing and new industries, managing Montalvo's internal and external sales team, and continuing to further Montalvo's marketing strategy. Previously Mr. Williams worked as Montalvo's Global Marketing Manager.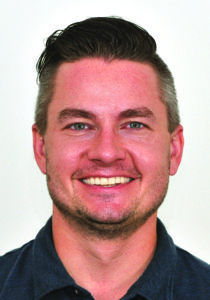 Montalvo's CEO Robin Goodwin says "Bryon has been with Montalvo since 2010, during which time he has shaped and elevated our global branding and marketing strategy while helping to manage our product portfolio. Bryon is highly committed to delivering excellence both internally and externally, directly benefitting our customers and his colleagues. He will bring this commitment and dedication to his new role, to grow Montalvo even further."
Before Montalvo, Mr. Williams specialized in customer communication and marketing coordination at JobsintheUS.com and Sunday River Ski Resort. Mr. Williams attended Bryant University and earned a Bachelor's in Business Administrant in Marking and Communication and is currently earning his Masters of Business Administration in Leadership from Saint Joseph's College of Maine.
About Montalvo
Since 1947 the Montalvo Corporation has specialized in manufacturing, integrating, retrofitting and servicing a wide range of tension control products for a variety of industries including, converting, paper, film, foil, nonwovens, plastic, corrugated, packaging, medical, composite and more. Montalvo's products include load cells, tension controllers, tension indicators, amplifiers, tension control brakes and clutches, sensors and safety chucks. Montalvo has four worldwide offices in the USA, Denmark, Germany & China. https://www.montalvo.com