Coast Controls Announces Newest Unwind Shifting Roll Stand Featuring Montalvo Tension Controls.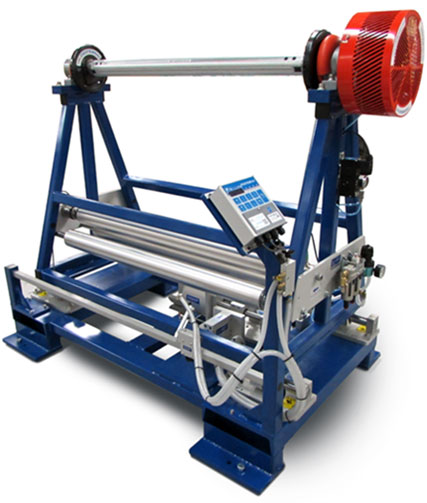 April 6, 2016, Sarasota, FL, USA – Coast Controls, Inc, exclusive manufacturers of all air web guide systems, is announcing the launch of its latest Unwind Shifting Roll Stand (SRS), the SRS4-R15-U. The SRS4-R15-U is designed as a simply supported Shifting Roll Stand on quad raceway assemblies with a sturdy A-frame construction to accurately unwind various mid to large range web widths with rolls weighing up to 2,500 lbs. (1133.9).  With the incorporation of a complete Montalvo Unwind Tension Control System, the SRS4-R15-U provides precise, automatic, total control of the web's tension and alignment as it enters the converting/printing process. Coast Controls manufacturers a wide range of Shifting Roll Stands (SRS), customizable to the precise needs of any manufacturer.
Vice President Kyle Koontz says, "These mid to large range unwind guiding systems are perfect for a wide range of web materials. Each system features Coast's unique All-Air guiding system, Montalvo tension control components, safety chucks and a continuous leaf core shaft. Total tension and alignment control as a roll of material enters processing is essential to high quality production and the new SRS4-R15-U is a great addition to and example of the performance capabilities of our Shifting Roll Stands."
Additional Features and Functions Include:
Heavy-Duty 2×2 welded steel tube construction.
Primed and Painted to the customer's specification.
Auto-Centering for new roll loading.
Precision Aluminum idlers engineered for each application.
Completely assembled, calibrated, tested and ready for production.
Engineered to quickly adapt to each customer's application reducing lead time.
Montalvo system components include:
S4 Tension Controller
V307 Series Unwind Tension Brakes with LoPro Cover
Guardian Safety Chucks
ES Idler Load Cells
I/P Converter with Gauge Kit and Filtration system
About Coast Controls
Since 1992 Coast Controls, Inc. has been a pioneer in the converting industry by offering the world's only All-Air web guiding systems. Coast systems are easy to use, pinpoint accurate, and are powered 100% by low-pressure air without the use of electricity, electronic components, or hydraulics. Coast guiding system incorporates an air flow sensor, air cylinder, and a proportional servo controller to make sure that materials are properly aligned. Coast systems do not rely on electricity, motors, switches, hydraulics, or electronics, and as such, are incredibly clean, safe and inherently explosion proof. Coast also offers an exceptional 10-year warranty and a 100% satisfaction guarantee. http://www.coastcontrols.com
About Montalvo
Since 1947 the Montalvo Corporation has specialized in manufacturing, integrating, retrofitting and servicing a wide range of tension control products for a variety of industries including, converting, paper, film, foil, nonwovens, plastic, corrugated, packaging, medical, composite and more. Montalvo's products include load cells, tension controllers, tension indicators, amplifiers, tension control brakes and clutches, sensors and safety chucks. Montalvo has four worldwide offices in the USA, Denmark, Germany & China. https://www.montalvo.com
For additional information please visit the SRS4-R15-U page on Coast Control's website.