FOR IMMEDIATE RELEASE
Contact:
Edwin Montalvo
(207) 856-2501
dan@montalvo.com
MONTALVO OFFERS RANGE EXPANDER
FOR UNWIND BRAKING SYSTEMS
Gorham, Maine— The Montalvo Corporation, international specialists in industrial web control systems, now offer their RE-4 Range Expander designed to expand the capability of unwind braking systems.
Used currently by such companies as Fisher Paper and Avery Dennison, the RE-4 is particularly effective in providing consistent, responsive tension control with large-mass rolls that run at light tension levels such as films and foils.
Ed Montalvo says, "If you need to get to speed quickly — or stop quickly — but your sheet is brittle or delicate, you will need a drive system with a large range of tensions and a large capacity, multi-range brake to manage the wide torque levels. The RE-4 can control the brake for stopping AND delicately manage the web tension when running at speed."
The RE-4 works in conjunction with the Montalvo 3400 Series of unwind tension controllers on non-driven unwinds.
In situations where a wide range of torque is needed (e.g. where the web tension may require 5 psi to the brake but require 75 psi to stop), different ranges of the brake can be engaged to ensure sufficient output for good running control and stopping without web breakage while maintaining proper tension. This system works with load cell-based or dancer arm-based tension control strategies. For a full explanation of the system capabilities visit www.montalvo.com.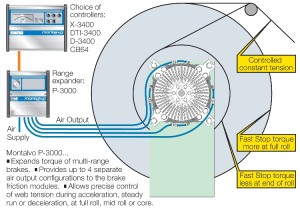 Montalvo Corporation's RE-4 Range Expander system.
Montalvo specialists can assist with system evaluation, installation and setup of this equipment on customers' machines.
Click Here for the P-3000ce-RE Product Page
The Montalvo Corporation specializes in the analyzing, upgrading and servicing of customer's web tension control equipment. For more than 60 years, Montalvo has manufactured, integrated and serviced a wide range of web control products and systems for the converting, paper, foil, nonwovens, and plastic film industries, as well as packaging, medical and high-tech applications. Montalvo products include electronic tension control devices, load cells, tension indicators, brakes, clutches, and safety chucks. Montalvo manufactures in the United States, and sells worldwide.
For more information contact The Montalvo Corporation at 50 Hutcherson Drive, Gorham, Maine, USA, 04038; telephone 1-800-226-8710 or (207) 856-2501; fax 1-800-644-5097 or (207) 856-2509; www.montalvo.com; e-mail: dan@montalvo.com.
Montalvo also has offices in China. Montalvo (Shanghai) Trading Co., Ltd. is located at Room 805 Forte Time Plaza No. 898, QuYang Road Hongkou District Shanghai, China 200437 Tel: +86-21-61401822 Fax: +86-21-61401821
50 Hutcherson Dr., Gorham, ME 04038 USA/Tel: 207-856-2501/
Fax: 207-856-2509/e-mail: dan@montalvo.com
(illustration courtesy of The Montalvo Corp.)