In This Issue:
In Depth Look: Brake Noise
Product Spotlight: DPS Dancer Position Sensor / Inclinometer
---
A new article from Montalvo takes an in depth look in the potential causes of brake noise to help determine the best way to prevent it.
Excerpt: "Montalvo has spent a great deal of time and money over the years discovering causes and finding solutions to brake noise. There are two approaches to solving this problem. (1) eliminate the vibrations causing the audible noise or (2) accept a certain degree of vibration in the system and attempt to dampen it to levels not audible by the human ear.
Dampening features can be added to any component of the brake system and into the friction material itself. The dampening characteristics of the pad, however, are affected by operating conditions and the environment. The feasibility of such dampening methods must also be considered…"
---
Product Spotlight: DPS Dancer Position Sensor / Inclinometer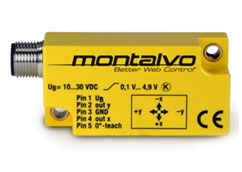 Accurately and precisely detect the slightest changes in dancer arm position change for greater control of your process.
No Wear Parts, Zero Maintenance. Say goodbye to complicated, time consuming dancer/rider arm potentiometers with the DPS dancer position sensor / inclinometer. Utilizing the latest in sensor technology the DPS is a micro-electric, no wear part system that responds quicker and more accurately to any changes in the dancers position.
Features include:
Easy and versatile installation
Non Contact Housing and No Wear Parts for extended service life
0.05 to 0.1 second response time for FULL SWING
Industry Leading Repeatability: 0.001
Dual Axis measuring capabilities. X or Y axis!
…and more