In this issue:
Taper Tension
Product Spotlight MRU
---
Taper Tension for Rewind Control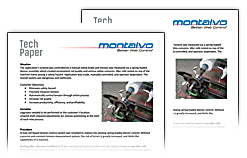 Taper tension is sometimes necessary if you are center winding film or other extensible material. If you maintain a constant tension on the web, as the diameter of the roll increases, the wraps become tighter. This sometimes stretches the web. If the web just came from a dryer section and the film is warm when it is wound, it will tend to stretch more. Then as it cools, it shrinks to its original size and either telescopes the roll or crushes the core. Similar problems arise when winding extensible foam materials as well.
The best method of achieving taper tension is to measure the diameter of the roll, either using an ultrasonic sensor or two pulse tachometers (one on measuring revolutions of the rewind roll and one measuring revolutions of a drive roll). This measured diameter is then processed and is used to reduce the tension as the roll diameter increases. Taper Tension can be automatically controlled through a taper tension feature controller.
---
Product Spotlight MRU – Micro Rotary Union
The MRU is a mechanical rotating device that allows the transfer of air to and from rotating equipment. It is used in machinery that requires a constant air flow during rotation and can operate at speeds of up to 7000 RPM with a maximum air pressure of 75 psi.
The small size is ideal for use in applications with limited space. The MRU uses micro precision instrument bearings and a carbon seal. The shaft is made of rugged stainless steel.
Features Include:
Carbon material seal designed to be effective, durable and long lasting.
Ball type, precision instrument grade bearing requiring no maintenance.
Rugged, corrosion and wear resistant stainless steel shaft.
Single piece aluminum housing body that protects the internal parts.
Low friction resistance.
Runs up to 7000 RPM and/or 75psi.
Visit the MRU Product Page for more information
---
Sign up here for the Better Web Control Newsletter to have monthly editions delivered right to your inbox.