In This Issue:
In Brief: Coating & Laminating Tension Control
Product Spotlight: X-3400HD All-in-One Tension Controller
---
In Brief: Coating & Laminating Tension Control

Excerpt: "The proper control of web tension is especially important for maintaining consistent and high quality in coating and laminating processes. For example, in coating, variation in web tension can lead directly to variations in coat weight and may cause spreading problems leading to carry over onto rollers. Even variations across the web width can cause quality problems with Meyer bar, air knife, or reverse roller coating systems. A display of right, left, or total tension can be invaluable in counteracting this.
In the case of laminating lines it is not only the absolute tensions that are important, but also the relative tensions of one laminated material to another. These must be correctly related to the stress/strain characteristics of the material if subsequent distortion due to differential contraction is to be avoided."
---
Product Spotlight: X-3400HD All-in-One Tension Controller
Combining the best of analog and digital capabilities with a range of tension control features makes the X-3400HD one the most advanced web tension controllers in the industry.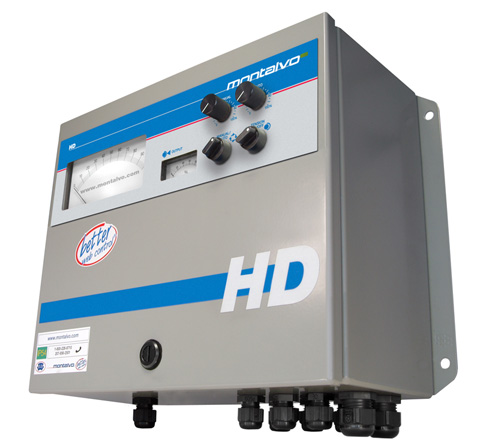 The X-3400HD gives you greater control while providing specific Unwind, Intermediate Zone, and Rewind features to ensure your process is as productive & profitable as possible.
Benefits Include:
Process Versatility
The X-3400HD Tension Controller can be configured for any of your process zones: Unwind, Intermediate, or Rewind.
Variable Wrap Angle Technology
Montalvo exclusive Variable Wrap Angle Technology eliminates the need to isolate the tension sensing roll and allows for roll contact to be made to only one side of your web. Learn more here
Unwind, Intermediate, and Rewind Functionality
Inertia Compensation: minimizes tension variations on rewind during start or stop
Web Break Detection: stops machine should a break occur
Taper: builds excellent rolls & eliminates telescoping and crush cores
Splice: maintains tension for more successful splices
Soft-Start: eliminates shocks to the web on startup
Anti-Coast: prevents web tension from dropping on stop
Analog & Digital Hybrid

The speed of analog combined with the functionality of digital; the X-3400HD Tension Controller gets your material to the desired tension, and makes tension corrections faster than any other controller. Simple to Program, Highly Responsive!

…and more
For a full list of features and benefits, datasheets, and more, visit the X-3400HD Product page