In This Issue:
In Brief: Taper Tension for Rewind Control
SAMPE 2012 Booth #1348
---
In Brief: Taper Tension for Rewind Control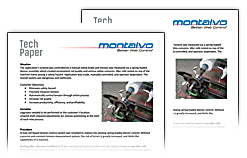 Excerpt: "Taper tension is sometimes necessary if you are center winding film or other extensible material. If you maintain a constant tension on the web, as the diameter of the roll increases, the wraps become tighter. This sometimes stretches the web. If the web just came from a dryer section and the film is warm when it is wound, it will tend to stretch more. Then as it cools, it shrinks to its original size and either telescopes the roll or crushes the core. Similar problems arise when winding extensible foam materials as well.
The best method of achieving taper tension is to measure the diameter of the roll, either using an ultrasonic sensor or two pulse tachometers (one on measuring revolutions of the rewind roll and one measuring revolutions of a drive roll)."
---
SAMPE 2012 Booth #1348
Montalvo is excited to announce it will be exhibiting at this year's SAMPE show in Baltimore, MD May 21-24 Booth #1348. This show is tailored for the Advanced Materials and Composites industry and Montalvo will be showcasing some new and innovative products that not only directly benefit this industry but others as well. As the world's largest conference and exhibition for advanced materials, SAMPE 2012 attracts over 350 exhibiting companies and 5,000 attendees.
Montalvo will be highlighting a few new products including:
Our line of Mi Interfaces
NS Load Cell
Filament Load Cell
The new I4 Indicator
New Dancer Controlled Servo System
Other products on display include
U4
S4
V Brakes
ES and U series Load Cells
PB Magnetic Particle Brake
A4
DPS
P3000HD Range Expander
X3400HD
Coming soon will be a new Advanced Materials and Composites section of the website, a Booth Brochure highlighting all of Montalvo's products and display's at the show, and new product datasheets and webpages.