February 12, 2014, Gorham, ME, USA – Montalvo has designed a new In-Line Tensioner System to create a tension control zone prior to specific processing, where none previously existed.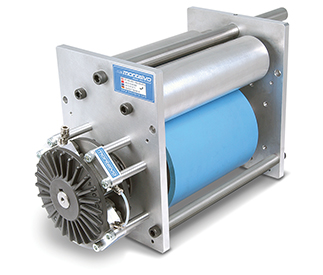 President Ed Montalvo says "Our customers needed a unique solution where a complete tension control system wasn't an option. They needed a standalone, drop in, tension zone to manage tension prior to entering their gluing and then their winding process. We were able to provide new specific points of control for each of the stages in their process. Our customers know that when unique tension control situations arise, they can call on us to provide the most innovative solution."
The custom in-line tensioner utilizes a CD Series Brake, i4 Tension Indicator and a pair of ES-LR Live Roller Load Cells. Operators are able to manually adjust output to the brake to create the exact desired tension level based on the precise tension feedback provided from the load cells displayed on the indicator, eliminating the guesswork in adjusting tension by touching the web. An automatic version utilizing the S4 Closed Loop Tension Controller is also available.
The custom in-line tensioner has been successfully deployed in both tube manufacturing and die cutting applications.
About Montalvo
Since 1947 the Montalvo Corporation has specialized in manufacturing, integrating, retrofitting and servicing a wide range of tension control products for a variety of industries including, converting, paper, film, foil, nonwovens, plastic, corrugated, packaging, medical, composite and more. Montalvo's products include load cells, tension controllers, tension indicators, amplifiers, tension control brakes and clutches, sensors and safety chucks. Montalvo has four worldwide offices in theUSA, Denmark, Germany & China. https://www.montalvo.com
For more information contact:
Bryon Williams
1-800-226-8710
bryon.williams@montalvo.com