In This Issue:
Solution's Spotlight: Montalvo Mark Andy Press Upgrades
Montalvo In The News: AIMCAL features Montalvo's Mark Andy Press Upgrades
---
Montalvo Solutions: Mark Andy Press Upgrades
As Industry Leaders in tension control products, services, and solutions Montalvo can assist you upgrade, rebuild, and retrofit your machines; increasing your productivity, efficiency, and most importantly profitability. Montalvo has worked with numerous companies to upgrade their Mark Andy Presses, maximizing their machines capabilities.
Montalvo's web tension control systems enable your press to:
Compete with the latest presses
Run lighter substrates
Run unsupported films
Achieve Faster Line Speeds
Improve Registration
Reduce Waste
Improve Wound Roll Quality
All for a fraction of the cost of a new press
Montalvo has become known for enhancing a press' capabilities, and enabling printers and label makers to more effectively compete against brand new machines in a highly competitive market. Machines that once purely ran cardstock, now can run cardstock all the way down to light films.
On Montalvo's Mark Andy Press Upgrade pages we walk you through the steps Montalvo took in upgrading a Mark Andy 4120 Press to become more versatile, cost efficient, productive, and profitable.
Learn more about our Mark Andy Press Upgrades
---
AIMCAL features Montalvo's Mark Andy 2200 Press Upgrades
AIMCAL highlights Montalvo's Presentation on the Upgrade of a Mark Andy 2200 Press: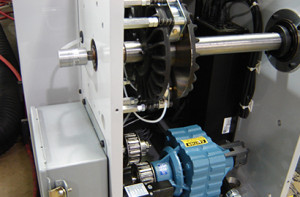 "The Montalvo Corporation, international specialist in industrial web control systems, has posted a presentation on its website to explain to customers how to upgrade Mark Andy 2200 presses for better productivity and reduced down time.
The emphasis is on controlling tension on extensible materials from the full roll mode down to the core using the 2200 presses.
President Ed Montalvo says the web site shows the steps for brake replacement with the Montalvo C-Series dual disc brakes in situations where significant unwind friction and torque are occurring in the original brake installation.
Montalvo adds, "The old pulleys alone weigh more than a new CD-134 brake assembly and this new upgrade does not use belts or pulleys. It comes ready to mount on the 1.375″ airshafts." …"