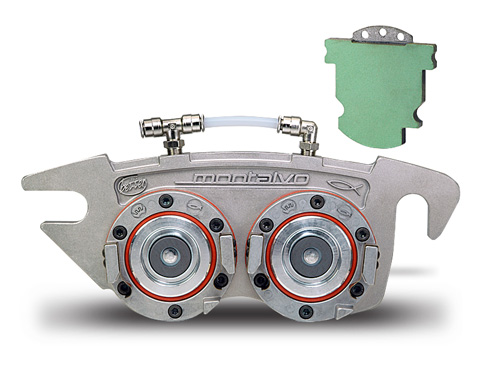 Tool-LESS brake pad changes. Measure productivity in seconds with snap-out, snap-in pad changes.
Overview

Downloads & Drawings
HP & Standard Brake Compatible
Used with Montalvo's HP or Standard Tension Brake the Dual V Module can also replace Standard Modules on your current HP & Standard Tension Brakes.
Snap-Out, Snap-In Brake Pad Changes
Pad changes require ZERO tools with the Dual V Friction Module as old pads simply snap-out and new pads snap-in.
High Quality Construction
Dual V Friction Modules are manufactured to perform in practically every environment. High quality construction ensures a long service life.
For additional information on the Dual V Friction Module please download the Dual V Module Datasheet.
Stay Up to Date On the Latest Product Releases and News