In today's competitive marketplace, manufacturers and converters are under pressure to satisfy varied and often conflicting demands.
In a time when customers carry little in the way of inventory, manufacturers and converters must strive to meet customer on-time delivery demands. At the same time customers look to their suppliers for improved performance at lower cost. If these requirements were not in themselves a challenge – converters must process materials that can be both varied and potentially problematic. All of these requirements must be met in order to remain competitive.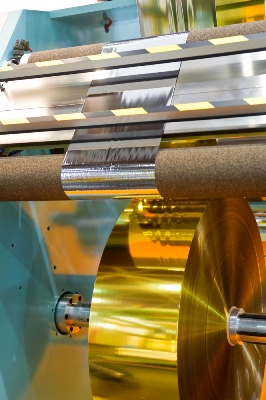 Unlike materials such as paper, glass and foils; plastic and plastic film materials are relatively new materials. For the brand owner, the retailer and others, plastic films provide many advantages, allowing manufacturers and converters to address a varied range of requirements. For example, thinner gauged films reduce material costs, while different multi-layer structures, developed using co-extrusion, extrusion lamination, adhesive lamination and coating provide a range of performance properties, such as barriers against aroma, light, fats, gas and moisture.
In general, the processing of plastic into film requires that the material be melted, fed into an exit-shaping die at a metered rate, cooled and wound. Many different structures can be made by adding to this simple concept with the die being flat or annular for either cast of blown tubular films.
Polyethylene, high density, low density and linear low density (PE-HD, PE-LD, PE-LLD)
Polypropylene, oriented, bi-axially oriented and cast (PP, BOPP, OPP, CPP)
Polystyrene and oriented polystyrene (PS & OPS)
Polyester saturated, PET and others such as PETG, PEN
Ethylene vinyl alcohol (EVOH)
Polyvinyl alcohol, PVA & PvOH
Polyvinylidene chloride (PVDC)
Others include polyvinyl butural, polycarbonate, polyamides….and so on. In addition there are numerous combinations of these materials, as multi-layer structures.
The largest industrial use of plastic films is in packaging, with, in decreasing importance – commodity and specialised films for building, construction, medical/hygiene-health care, consumer goods, agriculture, electrical and electronics. In sectors such as building, the least expensive types of film are used to protect materials from the elements; other films, more specialised are the geo-synthetics, the geo-textiles and geo-membranes.
In an age of increasing sophistication and specialization films are becoming ever more complex to suit niche applications. For example, water treatment films, developed for inverse osmosis, for filtering and desalination have become available and are used in civil engineering and construction; solar control films are another innovation, and are used on windows that are tinted or variously treated to restrict light transmission. Another area showing tremendous growth is in the area of electrical/electronic applications. Films for these sectors, though used in small volume are nevertheless important. Diffuser films for computer monitors, mobile phones and cameras are just some of the constructions available; others are films for capacitors or condensers, and polyimide films for flexible circuits.
While films provide so many advantages, success depends in large measure on the printability and convertibility factor. The extensible nature of many films necessitates lower tension levels, if the material elongates registration can be affected. Without precise web management and control of tension, quality will be affected whether the value-added process taking place is printing, coating, laminating or slitting and rewinding.
Appropriate control of tension is essential during unwinding of the reel and at wind up if problems such as telescoping, dishing, starred rolls,
wrinkles and baggy edges are to be avoided. In the coating of materials accurate tension is needed to ensure that an even coat weight is deposited on a repeatable and continuous basis. Slitting operations require proper slit positioning, which is a function of web guiding and tension control.
Complicating the issue of processing film is the fact that the bar is always being raised. Speeds are increasing, expectations of quality are increasing and the sophistication of competitors is also increasing. When new materials are developed, little thought is given to web handling and winding issues.
Advances in micro-processors and electronics in general, as well as in manufacturing techniques has made the development of more responsive tension control systems and their components a reality. Montalvo has kept ahead of processing and marketing requirements with methods such as closed-loop tension-sensing load cell based systems, which also include new state-of-the-art controllers such as the DTI-3400HD dancer controller with tension indication.
Tension-sensing load cells provide a direct method of continuously measuring actual tension in the web, enabling Montalvo's highly responsive
controllers to continuously respond to web conditions at varying zones, if tension differs from set point the controller, the tension controller automatically and instantaneously adjusts drives and torque generating devices such as unwind pneumatic brakes or rewind clutches so that web conditions are once more within set parameters. This is undertaken smoothly and without operator involvement. Amongst the benefits of this type of closed loop system is that waste is reduced, quality is maintained, machine speed is optimized and a range of materials, widths and thicknesses can be run trouble-free.
Sometimes, and this applies to some ultra-thin films and other sensitive materials, non-contact with the web is necessary, for these situations Montalvo can provide the U4 Open Loop/Diameter Based Tension Controller, a module which offers many of the features synonymous with closed loop control.
© Montalvo – Permission granted to use this copyrighted material, in part or all, provided that the source is acknowledged as © www.montalvo.com