Flexible-packaging converter Fischer Paper Products takes its Disco-Era flexo-press/bagmakers into the 21st Century with unwind upgrades.
By Editor in Chief Mark Spaulding — Converting Magazine, 5/1/2009 2:00:00 AM
Flexible packaging printed by Fischer Paper Products Scrap reduced 20 percent.
Web breaks and jam-ups almost eliminated.
Operator safety greatly increased.
Conservative ROI of just two years.
How's that for a bunch of 35-year-old printing presses?
Not that they achieved these feats on their own, mind you. A thorough analysis of unwind tension-control problems, followed by application of components from The Montalvo Corp. (www.montalvo.com) and other suppliers led to the above results at flexible-packaging converter Fischer Paper Products, Inc. (www.fppi.net)
Founded in 1972, Fischer Paper manufactures specialty pinch-bottom paper bags (left) in stock and custom-printed designs for the foodservice, hospitality, medical, retail and industrial markets. Located in Antioch, IL, the company prides itself on 24-hr turnaround of stock orders and short lead times for custom, printed products. Substrates range from bleached and natural kraft paper to glassine and foil-laminates. Lined and duplex bags, as well as windowed versions, are also converted at its 65,000-sq-ft facility, staffed by 80 employees.
With about 500 customers across the country, Fischer Paper has garnered another 25 new clients in the first-quarter of 2009. Its business model is to serve smaller customers who value quality and service, but it also serves large, national accounts who seek the same.
Billions of bags
All told, just over 1 billion bags/yr make their way through Fischer Paper's team of 15 Beasley French (www.beasleyfrench.net) in-line stack
flexographic printing/bagmaking machines. No longer manufactured, most of the systems were built in the late 1970s, although some are even older. The age of the equipment—along with its simplicity—combined to create the two-fold, web-handling difficulties the converter faced.
"There was a quality component and a labor component," explains Joshua M. Fischer, vp-administration and third-generation officer of the family-owned company. "There was no tension control or brakes on the machines [short of some old strap-and-weight setups]. For certain stops and starts, you needed two press operators. If we had a full roll, you needed a person actually putting pressure on the roll to stop it, and sometimes we have 2,800-lb rolls.
"The unstable web also caused print bounce, creating issues with print quality and bag gluing. That led to a lot of scrap, of course. And with the instability, there was a greater tendency for tears and jam-ups. It could take 15 to 90 mins to rethread a machine, depending on how messed up it was."
VP-admin Joshua FischerVP-Administration Joshua Fischer (foreground) and Montalvo representative Nick Herman check out a material roll on a
new Powell Engineering shaftless unwind fitted with the Montalvo multi-range V-Series brake.
The lack of unwind control produced two other problems:
A roll would run completely out (requiring more time-consuming rethreads)
Too much material was left on a roll (to help avoid the dreaded rethread).
In first seeking a solution, Fischer was focused on the product-quality aspect. While largely a spot-color and line printer, the converter had been dabbling in process printing. "For our niche in the marketplace, I was looking for technologies we could retrofit onto the machines that would give us the capability to produce higher-quality printed materials."
Two-year odyssey
Beasely French flexo press and bagmaker lineOne of Fischer Paper's 15 Beasley French flexo press/bagmaking lines is retrofitted with a Powell Engineering unwind (foreground) and Montalvo V-Series brake.
In summer 2007, Fischer contacted Nick Herman, a Montalvo representative, and began research to retrofit the Beasley French systems. Three already had late-model unwinds that could accept tension controls, but the rest were not conducive to an upgrade. Integrators were contracted to provide six new EP-Jr. shaftless unwinds with custom-engineered, modular dancer units to pair with Montalvo's technology.
The web-handling upgrades included Montalvo D-3400 dancer controllers , multi-range V-Series brakes and P-3000RE-4 range expanders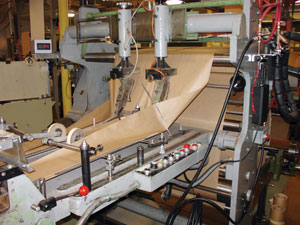 Printed web exits the press and flow toward bagforming area. The printed web exits the flexo press and flows toward the bagforming area.
It is the last component's ability to select the proper brake range for the size of the roll and bag-material type that lets Fischer Paper run faster with fewer tension-related web breaks and jams. The P-3000 range expander said to be a Montalvo exclusive chooses the correct operating range of the brake based on either the unwind-roll diameter or the output air pressure to the brake. This ensures the brakes are optimized for proper starts, stops and running tension control. By using only the brake ranges necessary, pad wear is also minimized.
"The control system we bought from Montalvo, in and of itself, is not unique," Josh Fischer says. "What made the application work is the range expander, which switches banks of brake pads automatically for you. As a percentage of the cost, it was a fairly significant addition to the Montalvo package, but in real dollars and sense, it wasn't so."
The P-3000 also provides one central, user-friendly interface that Fischer Paper sought. "You set the limits, program it and forget it," he says. "Operators don't have to worry about what the substrate is, its weight or width, and it gives us the 'end-of-roll' alarm we wanted."
After Fischer Paper made the first tension-control upgrade in fall 2007, it quickly saw the benefits and began rolling it out to more machines. As of presstime, the ninth retrofit was being put into place.
"Two things we won't compromise on are safety and quality," adds Fischer Paper operations director Thomas J. Carleton. "This solution attached itself to those very quickly. Then, you move to efficiency.
With more than half its Beasley French press/bagmaker systems upgraded, Fischer Paper is discovering some unexpected benefits. Chief among them:
"If we couldn't run a roll, we sent it back to the warehouse," Carleton explains. "Now, we can run 95 percent of the bad rolls on machines with the new Montalvo setup."
In the end, it's not really an exaggeration to see why Fischer Paper took a group of Disco-Era printing presses and fast-forwarded them into the 21st Century. "It was a no-brainer," says Josh Fischer. "It's worked out very well."
More Info:
CONVERTER:
FISCHER PAPER PRODUCTS, INC., 800/323-9093, (www.fppi.net)
SUPPLIER:
THE MONTALVO CORP., 207/856-2501, (www.montalvo.com)
FISCHER PAPER PRODUCTS, INC.: Antioch, IL
OPERATIONS: In-line flexographic printing/bagmaking
PLANT SIZE: 65,000 sq ft
EMPLOYEES: 80
MAJOR EQUIPMENT: 15 Beasley French stack flexographic-printing presses (18-, 30- and 45-in. wide; 2- and 4-color) with in-line bagmaking systems
Short Runs, Dynamic Workforce
"We run a lot of small jobs," says Fischer Paper Products operations director Thomas Carleton, summing up some of the reasoning behind the converter's extensive retrofits of its 1970s-era printing/bagmaking systems. The company operates 15 lines, changing over up to 35 times a day.
It is just these frequent changeovers of material weights, widths and tension-control demands (and their potential for resulting in downstream problems) that are solved with Fischer Paper's application of Montalvo dancer controllers, brakes and range expanders (See main article). Along the way, the company also gained a more dynamic workforce.
"The Montalvo system was by far the most user-friendly," adds vp-administration Joshua Fischer. "We want to give our people the tools they need to become more versatile, more highly skilled.
"With machines this old, they have quirks and issues, so we wanted to retrofit them to take the hassles and complications out of the process. The Montalvo upgrades made them as simple to run as possible."
Portion of Original Article first published in Converting Magazine