In this issue:
Product Spotlight: V Brake & V Pad
North American Sales Team
The new Montalvo.com
---
Built to define Productivity!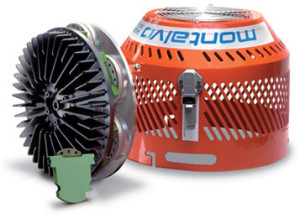 Increase the performance of your application while minimizing maintenance
From bolt to disc to pad, the V-Brake is designed to increase your productivity. No other brake in the industry is as easy to install, operate, and maintain as the V-Brake.
Maintaining your V-Brake takes only seconds with Montalvo's exclusive "snap-out, snap-in" brake pad changes. Performance & Productivity in perfect unison.
Features include:
Wide Torque Range
Increased Cooling Capacity
High Heat Dissipation & Thermal Capacity Discs Easy Installation
Minimal and Easy Maintenance
Bi-Directional Operation
Immediately Operational
---
Montalvo Cements its North American Sales Team
New inside sales, applications specialists and expanded territories.
We have finished the final steps in reorganizing our North American Applications Team with expanded territories of several of our representatives, the addition of two new regional sales managers, and a new inside sales & support specialists. Montalvo's Applications Team members assist customers with all aspects of technical sales, tension control consultation, product service and support.
Chief Operating Officer Robin Goodwin says "We wanted to create the strongest possible team for our North American market. We expanded the territories of several of our current representatives. In addition, we saw a number of benefits in going direct in our Northeast and Southeast markets. This not only gives our representatives greater opportunities but ensures our customers are getting the very best in terms of service and support. By using a hybrid approach to our North American team, we leverage the combination of so of the strongest representatives in the industry, excellent technical sales and direct sales. I am very excited abo our team going forward and confident in their ability to drive growth in the years ahead."
---
The re-designed Montalvo.com
Quicker navigation, enhanced user experience, new layout and more!
New Benefits Include:
Drop down navigation to get to pages quicker
Highlight of Upgrades and Retrofits
Password Protected Logins
Saved Login Sessions to reduce login frequency
Dedicated multi-lingual versions of the site (coming soon)
More informative and easier to navigate product pages
Enhanced usability for Local Contacts pages
Responsive design for mobile and tablet devices
Fresh, new design
and more