In this issue:
Load Cells
Product Line – Load Cells
The Importance of Load Cells
---
How You Measure Makes All the Difference
Quality – Performance – Precision – Repeatability
Load Cells are not always front and center in people's minds, perhaps even viewed as a commodity. They are often a small component in a large machine, and depending on the environment perhaps not even visible.
However, a poor performing or inferior load cell can take the thousands, hundreds of thousands or even millions invested into a machine and put that money in the trash, in the form of increased scrap, slower production speeds, poor end product, and more.
That's why we've dedicated this entire newsletter to Load Cells!
When you need a load cell, you need one that is sensitive to the slightest changes in tension, one that is built of the highest quality, one that delivers incredible performance, gives you a repeatable signal every time, and has a long service life. When you need a superior load cell, you need a Montalvo Load Cell.
---
A full range of load cells to meet the specific needs of your application
High quality tension control starts with a high quality tension control signal. Montalvo's strain gauge load cells offer industry leading sensitivity to detect the slightest changes in tension, minimizing waste and maximizing your amount of high quality end product.
We manufacture a full line up of load cells to meet the specific needs of your application, delivering the reliability, performance, and service life you depend on.
ES Series (Dead/Idler Shaft, Live Shaft, Live Roller)
U Series (Under Pillow Block)
XR Series (Single Strand-Filament, Ribbon, Wire, etc)
LCR and TNT (Load Cell and Rollers all in one)
---
The Importance of Load Cells
A detailed article looking at why load cells are critical to your performance.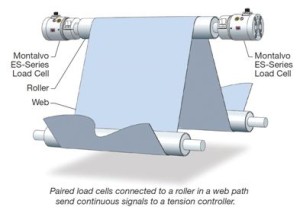 The trend towards faster, wider web width machinery and the processing of a broader range of substrates has resulted in a greater emphasis being placed on tension control equipment.
Without an accurate method of measurement and control, product quality and productivity will be affected. Distortions in a material, stretched as a result of excessive tension, can be just as counterproductive as folds and creases from too low a tension. Web breaks and the consequent downtime are costly affairs.
In order to control web tension, there must be continual and precise measurement of actual tension in the web in a format that is meaningful to the process line's tension control system. That system regulates tension through drives or brakes at zones in the line that are preset to determine tension levels.
Read the rest of the article here
---
Sign up here for the Better Web Control Newsletter to have monthly editions delivered right to your inbox.