Unwind Tension Control
Precise, accurate and consistent tension control straight from the start.
Load Cell, Dancer, Diameter Based or Variable Wrap Unwind Controllers that feature soft-start, anti-coast, splice and more.
Unwind Tension Controllers: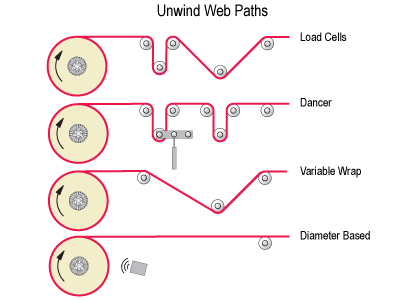 Process (Nip) Tension Control
Ensure high quality accurate material processing with Montalvo Process (Nip) Tension control.
Functions include:
Process (Nip) Tension Controllers:

Rewind Tension Control
Maximize your end product quality by finishing just how you started;  with precise, accurate, consistent tension control.
Load Cell, Diameter Based or Variable Wrap Rewind Controllers
Functions include: inertia compensation, taper, web break detection, and everything else
Rewind Tension Controllers (incl. Differential Rewind):